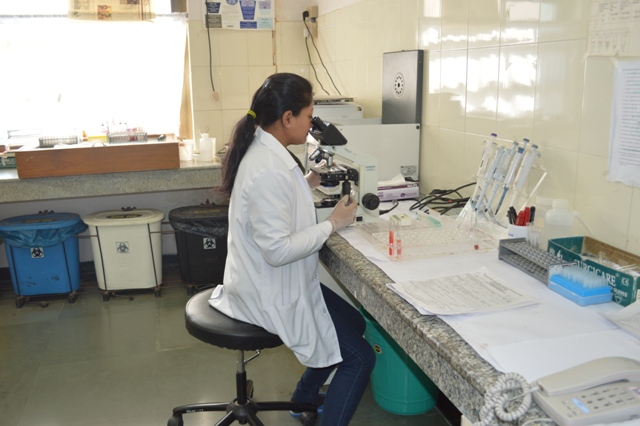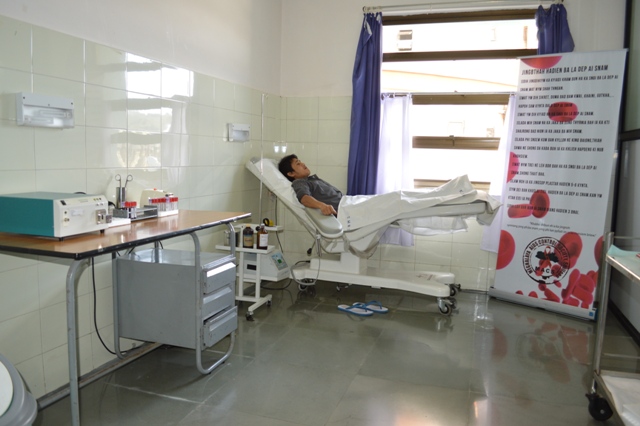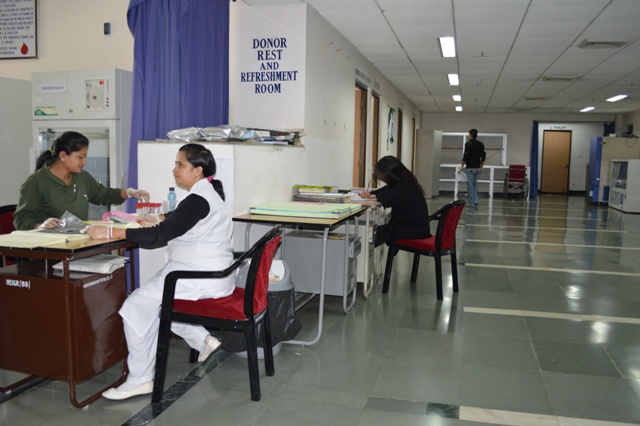 Introduction:

NEIGRIHMS Blood Bank Unit started functioning from the 11th of February 2008. It was upgraded to a Blood Component Separation Unit from the 12th of May 2009.  The department is supported by NACO and guided by the decisions of the Hospital Transfusion Committee formed in February 2008 under the Chairmanship of the Medical Superintendent.

In-Charge, Blood Bank
: Dr. Lutika N. Lyngdoh, Senior Medical Officer

Dr. Khumanthem Memtombi Devi
Assistant Professor

                           


Services provided:

Blood Bank NEIGRIHMS accepts requests for blood and blood products for patients from the other hospitals of Meghalaya.

Timing of services:

| | |
| --- | --- |
| Issue of Blood and Blood products | : 24x7. |
| Blood donation   | : 9 A.M. to 4P.M Monday to Friday |
| | : 9 A.M. to 1P.M Saturday |

Donor screening and Bleeding rooms:

As the voluntary donation rate in the State of Meghalaya is low, we depend on replacement donation to a major extent for replenishing our Inventory. We follow strict Screening Criteria to rule out professional donors and thus improve the chances of providing the safest quality blood.

We coordinate with various clinical departments in providing therapeutic phlebotomy services.

Immunohematology II Laboratory (Routine Laboratory):

Tests for determining the ABO group & Rh type, detecting unexpected antibodies to red cell antigens using in-house prepared panel of screening and identification cells, confirmation of Rh negative status by Du testing, resolving ABO discrepancies, etc.

This includes ABO grouping, Rh typing, antibody screening and identification and cross matching.

Issue of blood and components:

Blood and blood components are issued to the various user departments of NEIGRIHMS and other outside hospitals.

Blood Component Separation Laboratory:

Blood Bank, NEIGRIHMS practices 100% Component Separation. Thus every unit of precious blood available is utilized maximally. The following are the various components prepared: Packed Red Cells,           Fresh Frozen Plasma, Platelet Concentrate and Cryoprecipitate.

Transfusion Transmitted Infection Screening Laboratory:

We in Blood Bank are committed to giving the safest possible blood & blood products within the available means. Screening is done for HbsAg (Ultra sensitive ELISA kit) HIV 1&2(Antigen antibody detection ELISA kit) HCV (Antigen antibody detection ELISA kit) and Syphilis (ELISA) & Malarial Parasite (ELISA).

Immunohematology I Laboratory(Special cases Laboratory) :

Our department has a well-equipped special cases laboratory to provide diagnostic aids in the management of various autoimmune disorders such as Auto Immune Hemolytic Anemia, Paroxysmal Cold Hematuria, etc. We are performing various special tests like DAT, IAT, elution, auto- adsorption, allo - adsorption, antibody screening, antibody identification & estimation of titers, work up for cold antibodies, investigations of transfusion reactions etc. 

Quality Control:

In order to be able to provide quality products, we strictly follow all the guidelines for quality control checks for every procedure done in our Blood Bank, beginning from donor screening to the final issue of blood and blood products.

Future Plan:

To establish a molecular laboratory for identification of antigens of red blood cells, human leucocytes, platelets.
Establish facilities to perform platelet function tests.
Nucleic acid testing to check the presence of the mandatory screenings for Hepatitis B, C and HIV.
To introduce apheresis.
Electronic documentation.